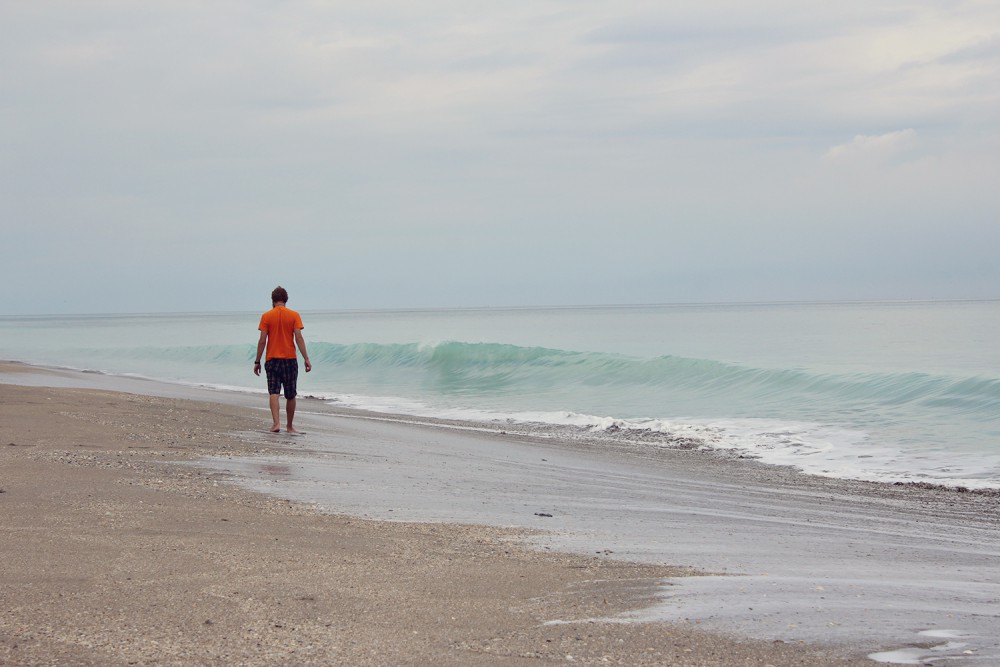 Well, that was shorter than we planned. Though you have to be fair, we didn't plan anything. It was a nice trip anyways.
Travelling, getting away, that's difficult right now. Everything in us wants to head north, but we're picking up visitors in Miami in five weeks. Every northbound mile gets us a mile in the wrong direction. We don't want to travel any further south, with temperatures around 100°F just a few miles further down. Leaving the coast doesn't make sense, it's even hotter and way to many bugs. All those bugs! So, what are we gonna do?
First idea: Just head north, at least a few miles. Not as much that it'll hurt our budget (The budget. Long dead.), but far enough that we'll see another Walmart parking lot for once.
Our first stop: Vero Beach. It felt like a world tour. Back on the road again, driving, moving. New stuff to see, turn on the Music, life's good! Doesn't matter that Vero Beach is a 30 mile trip. We made the best of it. Driving with the ocean on one side of the road, Indian river on the other side, passing the nuclear power plant, pit stop at Wendy's heading to Avalon State Park. They actually have RV parking lots with ocean view! And the beach was perfect for little explorer.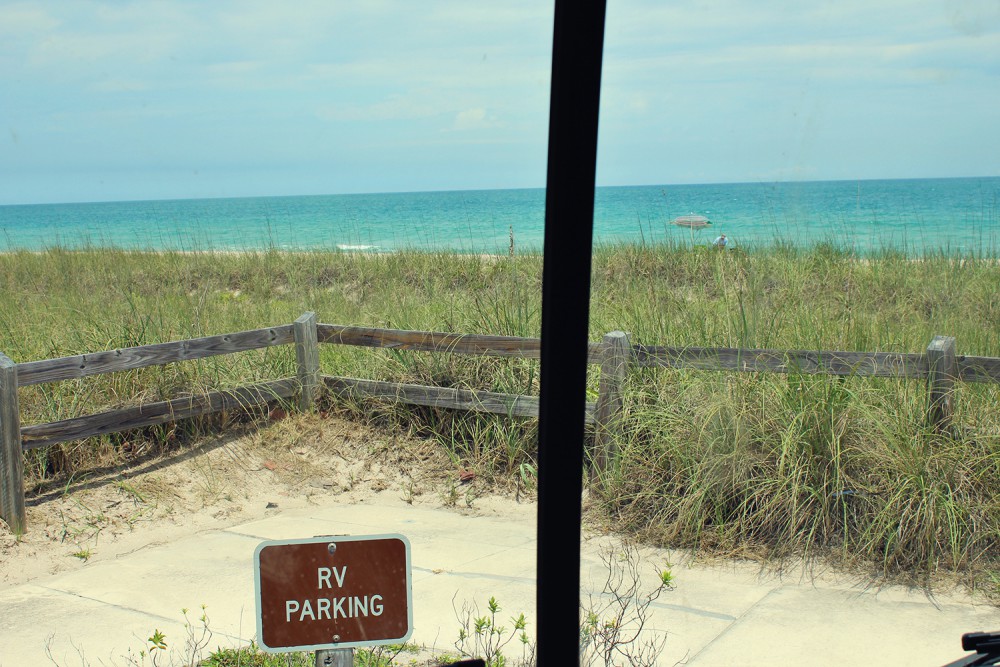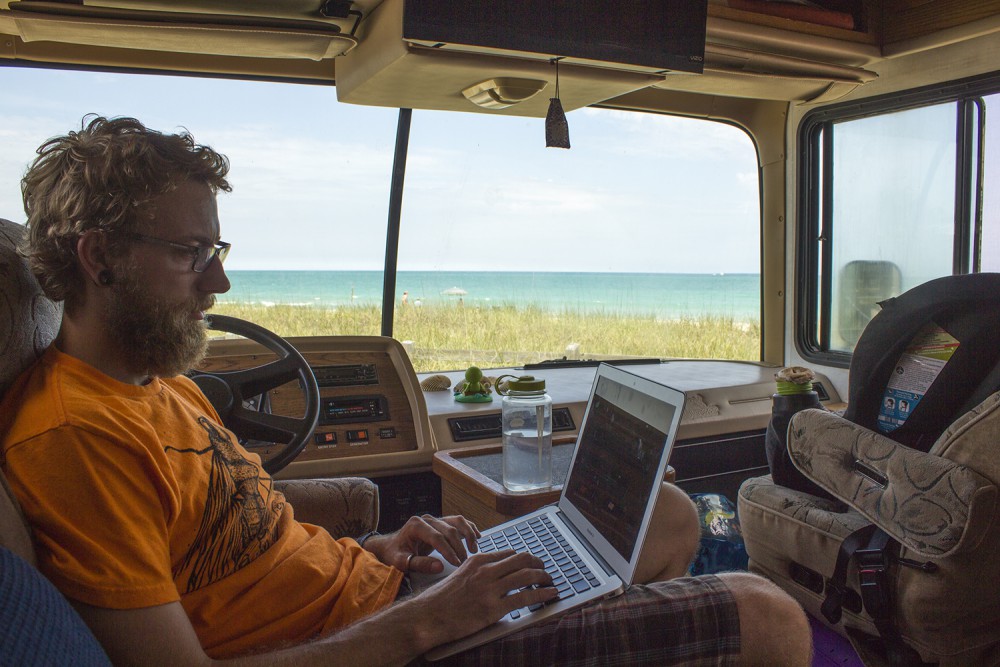 The only downside: You're not allowed to stay overnight. Nowhere. Every single park, beach, puclib parking lot bans overnight parking. Alright, off to Walmart we go. The one with the evil red signs that prohibit overnight parking. Damn! We didn't want to stay at the Fort Pierce Walmart after there was a shooting just a few weeks ago. You don't have to overdo it with adventures.
That leaves us with hiding in the darkest corner of the no-sleep-Walmart parking lot, right next to GoodSam and the Tire Center. Free Wifi! And we met some nice mechanics in the morning.
We wanted to avoid this situation for the days to come, so we spend the night planning. And agreeing on a free campside just a little further inwards. Just to cancel those plans the next day. It is just too damn hot for staying anywhere else than the beach. And bugs! I mean, their homepage warns everyone about bugs, and they are Floridians!
Further north we went, found a nice beach, stayed for the day. And found a nice Wildlife reservoir. Normally, you can stay overnight since they are public lands. And this one even was the fist official Public Land in the states! So we just stayed in the parking lot. No sign that prohibits overnight parking means we're allowed to stay, right?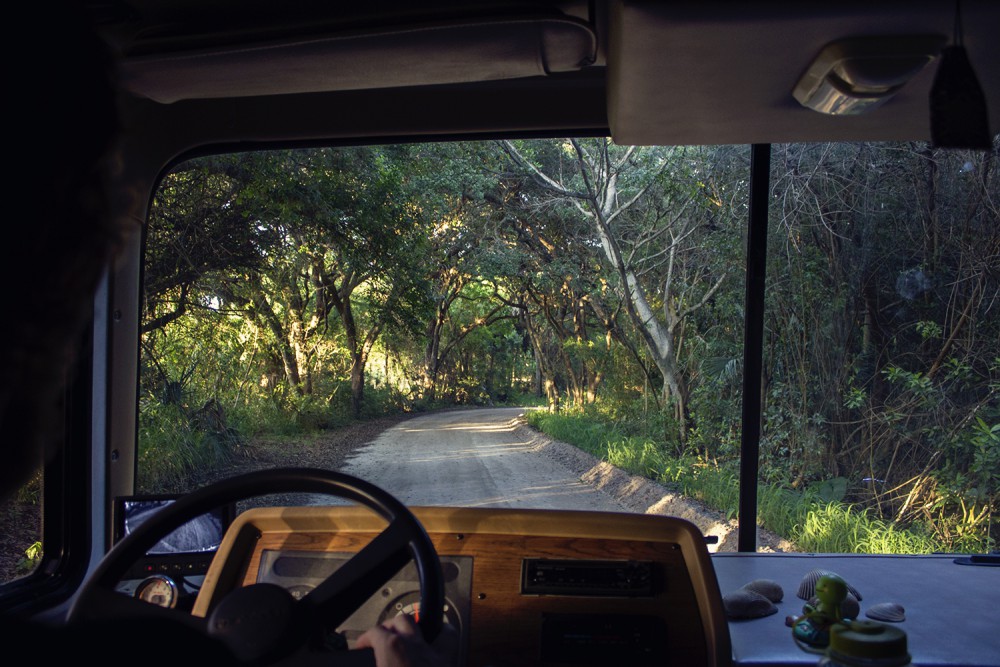 Around 9pm the nice guy locking all the gates came over. And asked us if it's ok to lock us in? Sure! First official nature boondocking! Exciting! Lets open all the windows, enjoy the fresh air! Starry sky, crickets, you could even hear the ocean. Perfect. Some minor mosquito bites at night, nothing too dramatic. Or so we thought.
While brushing our teeth the next morning it felt a little bit like having a sunburn. Weird, we haven't been at the beach that long? Until we looked up and saw the no-see-um cloud in the shower (size of a fruit fly, look like a fruit fly, annoying as a fruit fly, plus they bite. Florida's finest). And the one in the bedroom. Nature! Damn! And we didn't even have bug spray! So we just used some Axe. Worked better than we thought.
Anyways, while we're here we wandered around the reservoir. And the nature – except for the clouds of mosquitoes, the hornets and the unbearable heat and soon as you step out of the shade – was beautiful. Observation tower to see Pelican Island, many many dolphins, nice New Yorker tourists. That's what was missing from those last months!
After the tour through the reservoir we went back to the beach for a nice breeze and a shower In paradise and manatees (which I mistook for a shark and reacted accordingly by being in full blown panic mode and trying to get both out of the water).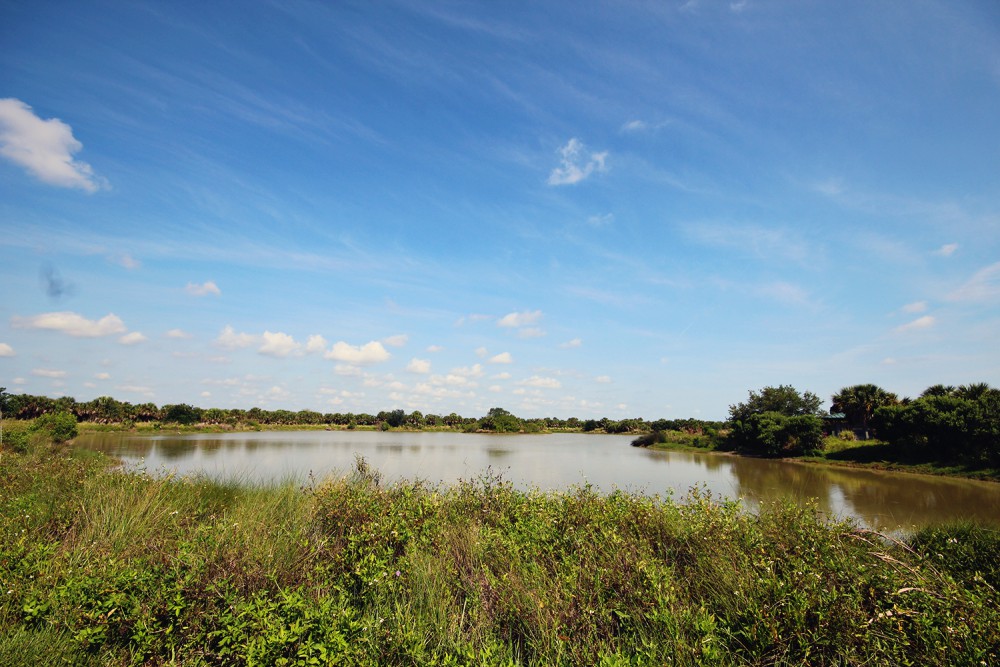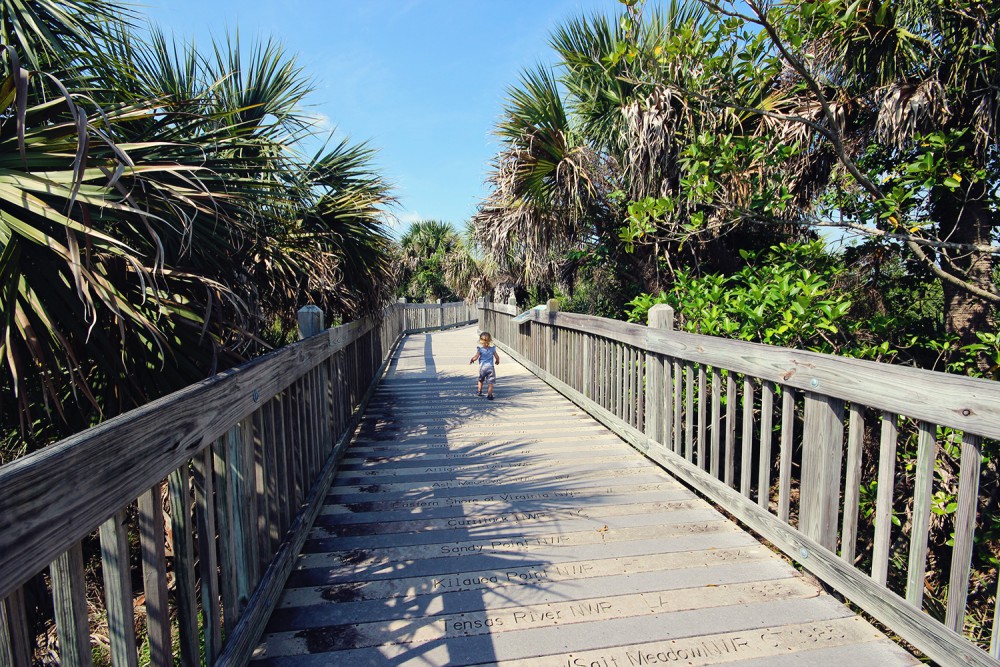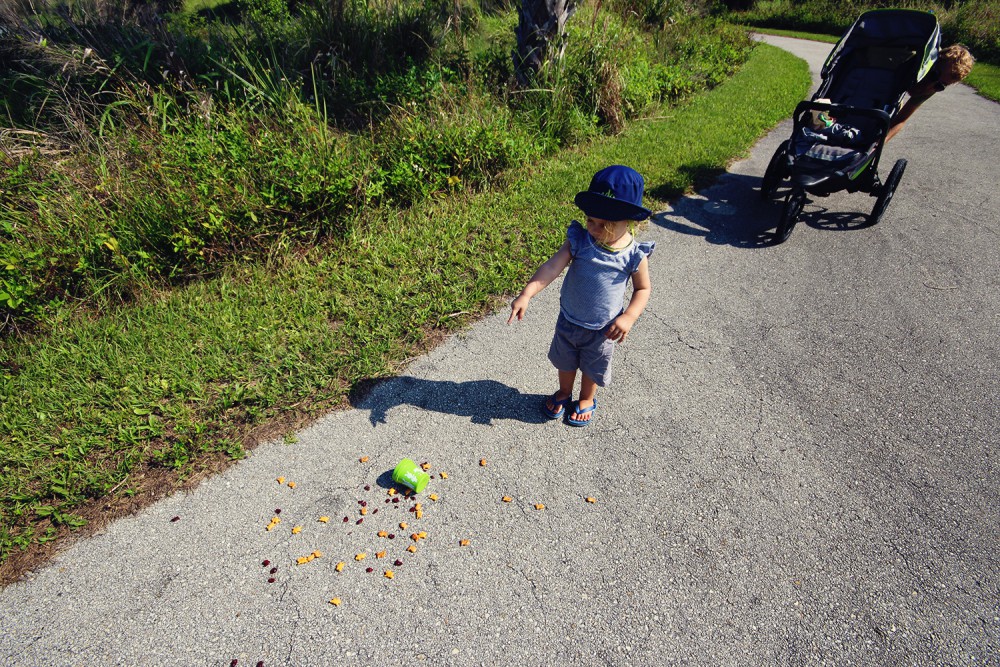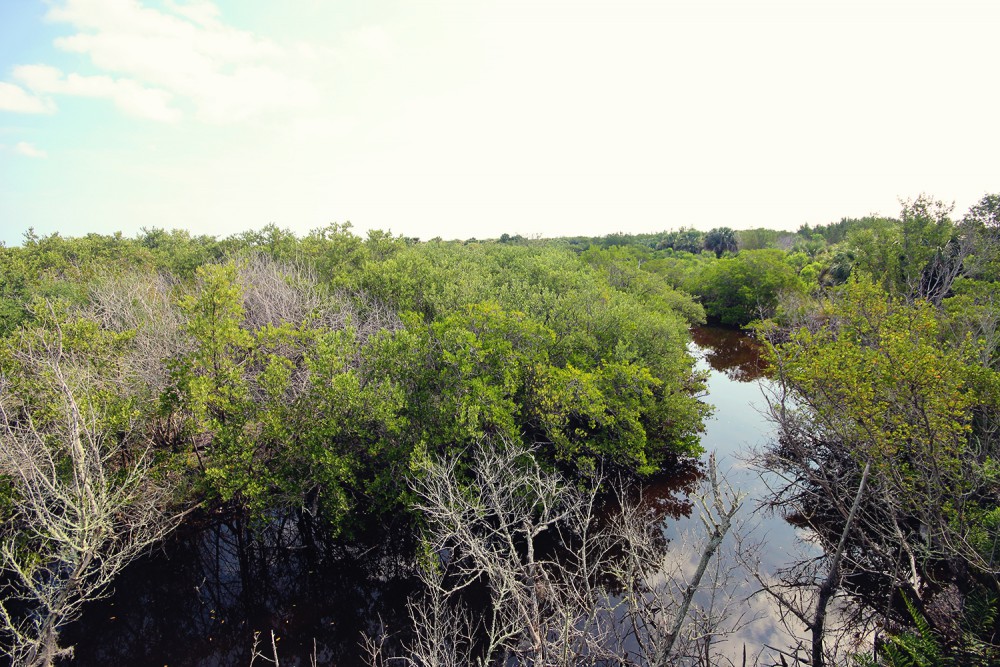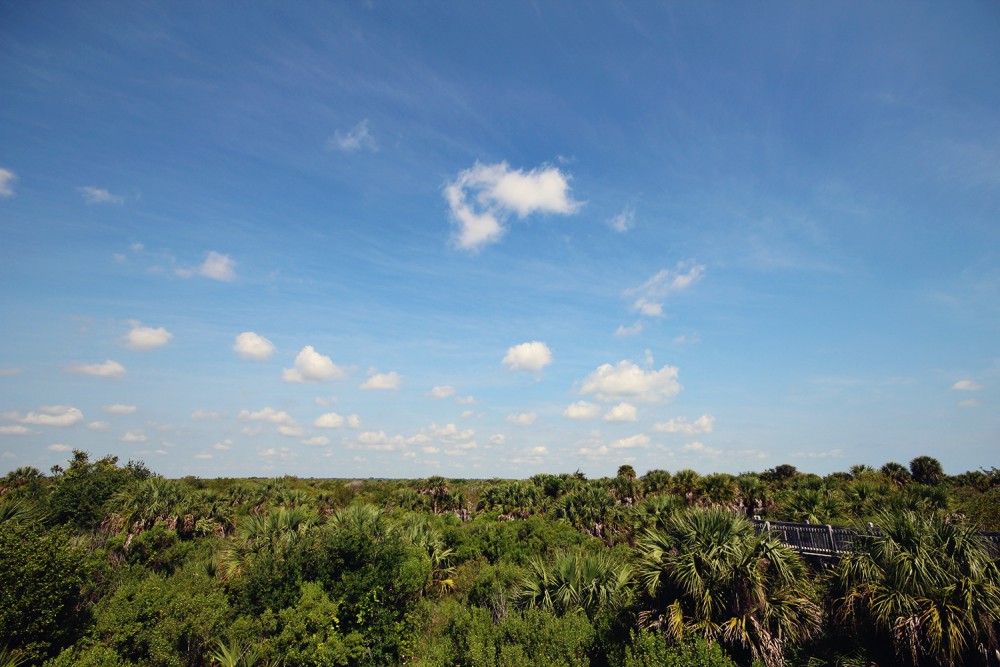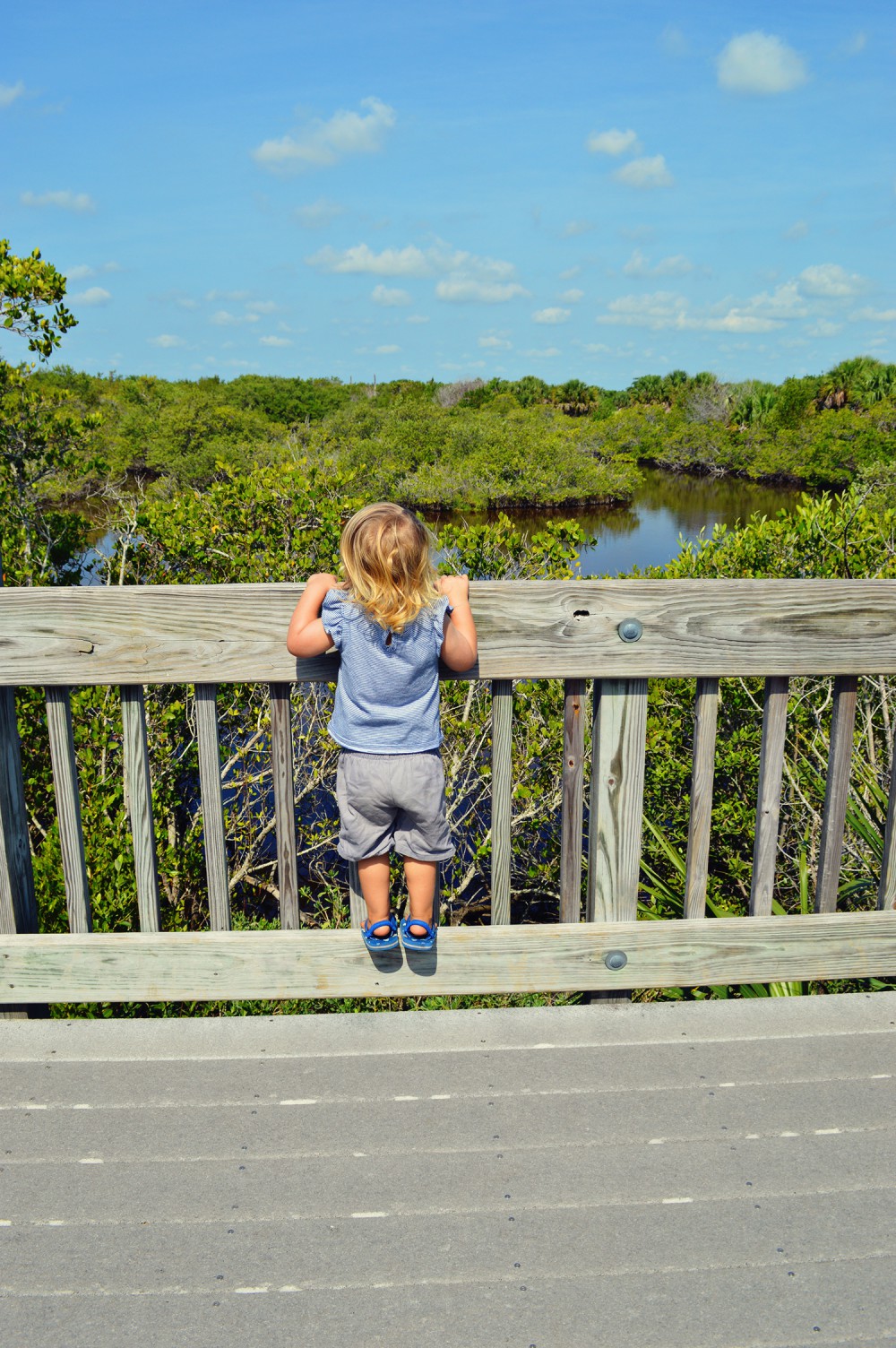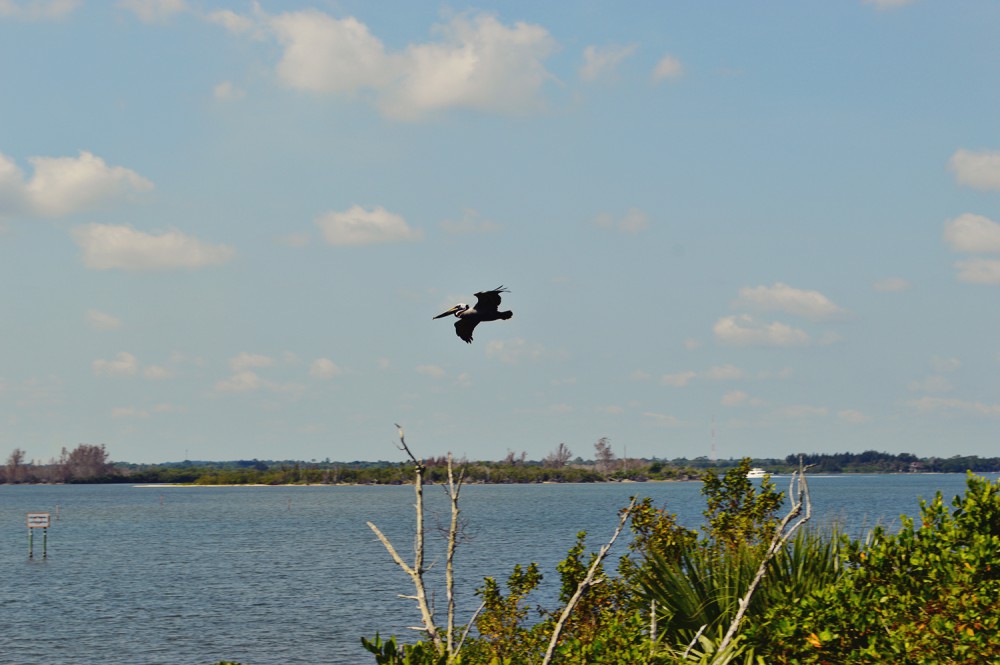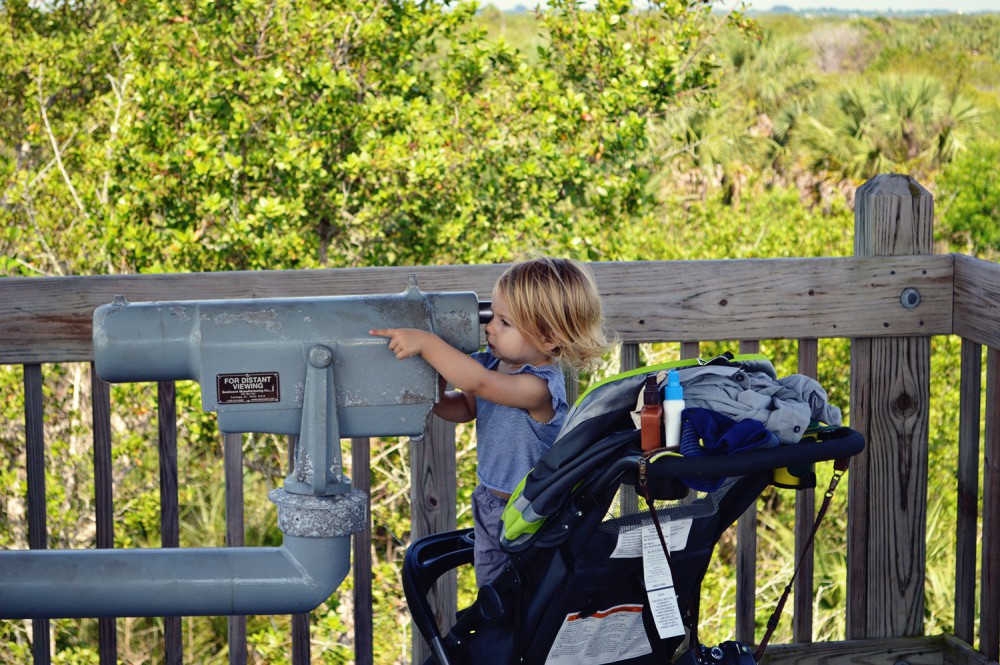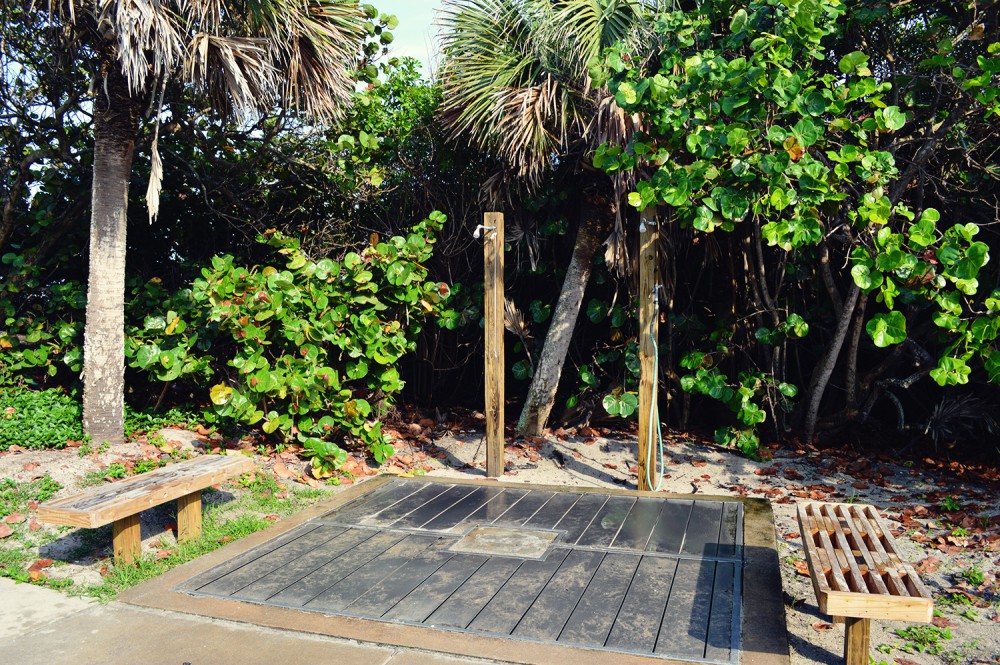 The evening came with the same problems we had the last few nights: Where do we spend the night? And why the hell do they lock all the beaches at night? Anyways the options: head up north to Melbourne (Betty's hometown), look for something on our way up? Drive back South? Making the decision felt a little bit like giving up: Down South we go. There is no reason other than spending too much money to go North, shuttling from one Walmart to the other.
And so, back down south we went. We even found a free, open parking lot next to stream in the middle of nature. Perfect, until the kid had to go to sleep. No way to sleep with windows closed, it's just too hot. No way to sleep with the windows open, there are just too many no-see-ums. Nature. Enough said. Back to the Lowes parking lot we went. A little breeze. No nature. Great.
Now we'll spend our next days in Jensen Beach/Stuart, do stuff and decide on what we actually want. We'll try to make the best of these days in hot and mosquitoeish Florida, until we can head back North in August.