What do you think about campgrounds? (Stationary vs. on-the-road)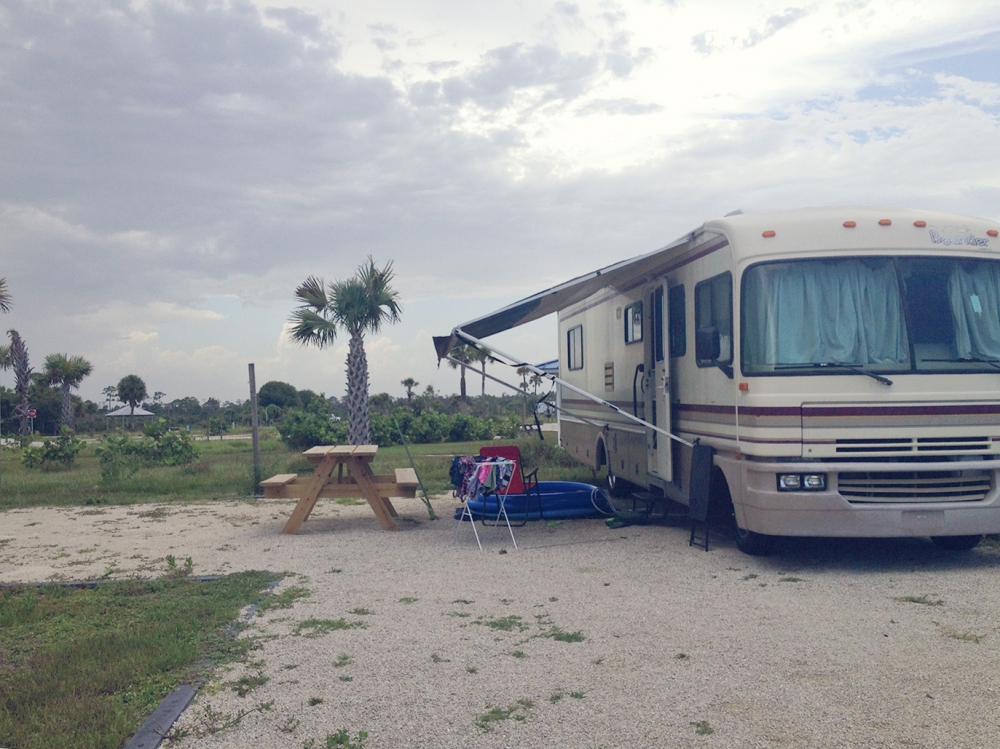 Here we are after 9 months, with one or two principles less and a few naïve plans thrown overboard. Food budget of $400. Nevermind if I laugh. Never stay in one city for too long? Hello Stuart! Modifying Betty to make a beautiful and stylish home? Don't even get me started on the struggles with that.
And then the parents where visiting us and we were staying on campgrounds every other night, sometimes even two nights in a row. And while we were all never really healthy at one point during the trip, and even though we had to work well past midnight and the temperatures had us inside by 10am, even then a unbelievable weight just fell off our shoulders. Yes, we know the Walmart-Playground-Hopping wasn't ideal. It's not like I never wrote about that. Sometime or the other. And it's not like we were in the place to afford a campground every day of the month. See the $400 grocery budget at the beginning.
Though, our situation changed a lot and still changes. And during those last weeks, a few aspects have changed. Our appreciation of this small town that we called home for several months. The, even with constantly running AC, almost unbearable heat, that confines us to the insides for most of the day. The longer working hours for both of us. Which comes with a critical relief for our budget. The very few and decreasing spots for urban boondocking, which leaves us balancing on the edge of hospitality. Betty's minor and major signs of aging. An unbelievable mobile baby. And the need for stability, mobility and bourgeois stuff like a small yerd to grow stuff, a room for every one of us. To make things clear: The last aspect was acknowledged, and then put on the when-we-are-grown-ups list.
So, what are we going to do? It's obvious to us: We can't live like we did for the last months for much longer now. It's doesn't make us happy, and that was the goal in all of it. It is clear, too, that it is actually the first time we are able to change anything about the situation.
And so we bought us in Jonathan Dickinson State Park for a week. This park offers a lot from swimming to mountain-biking, hiking, boattours and so on. You can take guided tours and learn tons about Florida's nature and history.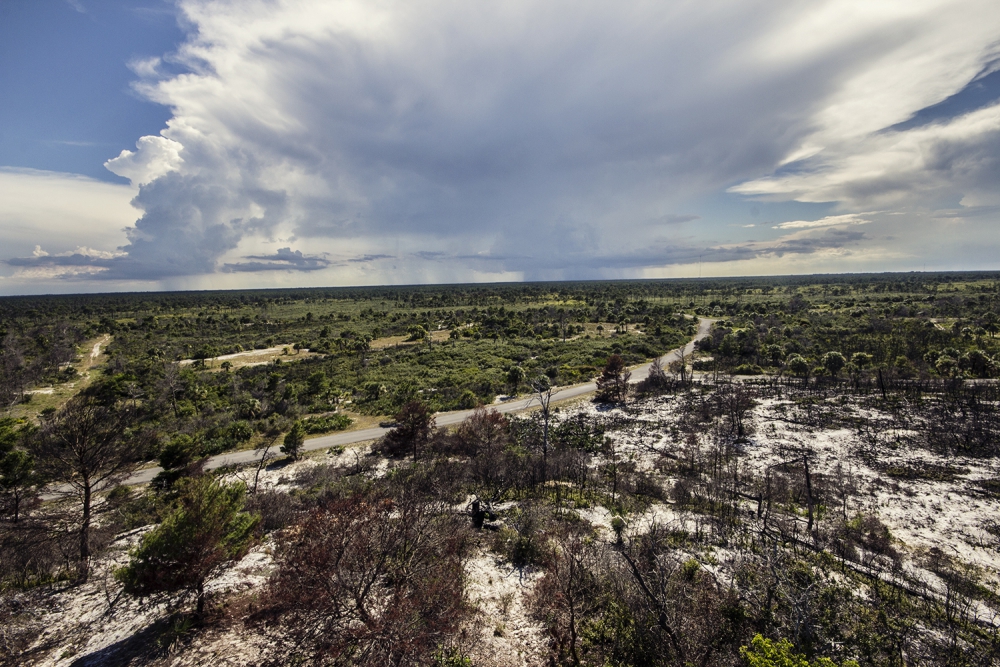 We have to leave on Friday and we left our campsite exactly twice: Once for grocery shopping and once for a trip to urgent care. Of course I've been sick again.
Other than that we're just enjoying all the things we are more or less conscious of limiting ourselves in: unlimited water (for spontaneous baby bubble time or washing my hair and (!) putting conditioner in), steady access to the microwave (hot coffee with every sip, even with a toddler and a baby. Don't ask. Yes, it's almost 90° around 10am, but still). Running the AC all.night.long. And all day for that matter. Well, actually 24 hours to keep a constant temperature of 83° inside ( that's not really a luxury. That's necessary. There's only one spot we can boondock that allows us to maybe have just shy of 86° inside, and that's with all windows open and fans). A useable "yard" (we bought a $13 pool at Walmart, put the awning out and utilizing point one: unlimited water), unlimited access to washer and dryer (and not spending a penny on the dryer with this weather), breathing in some nature ( and some no-see-ums while we're at it) instead of sleeping next to Walmart-Truck generators ( read: waking up at 4am because of this unbelievable loud pack of birds that's apparently nesting behind our side, witnessing fight bird vs. snake, witnessing fight bird of prey vs. bunny instead of having to witnessing fight teenager vs. transmission). Charged phones and laptops. All.the.time and everywhere. Being able to charge the phone overnight has become a luxury.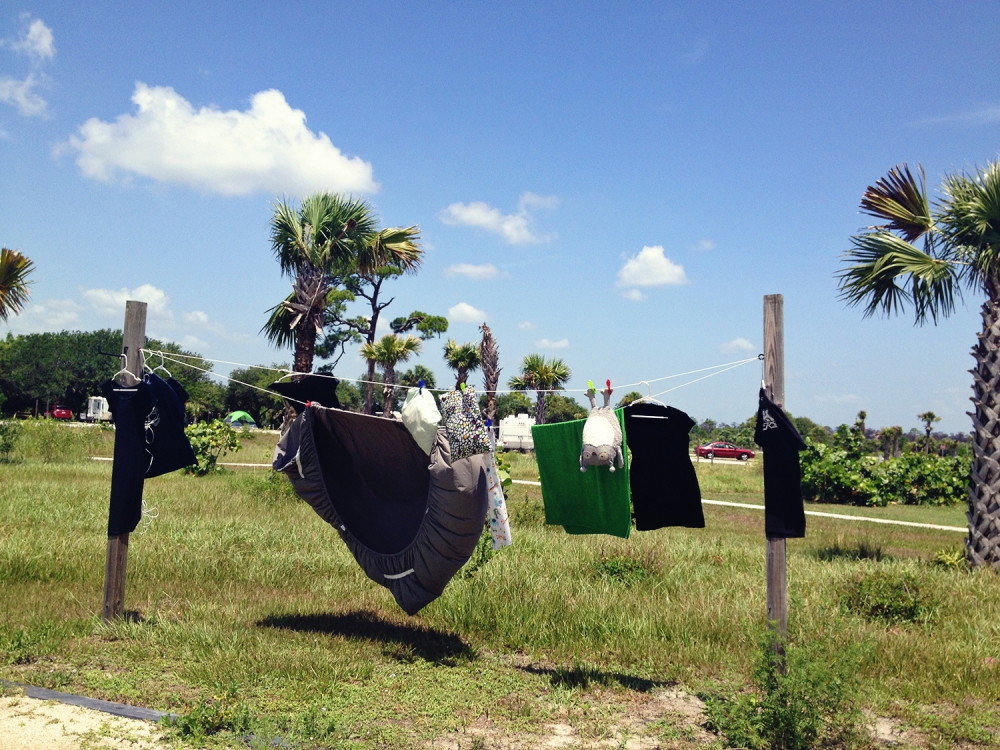 Even though I've been sick again, we're all so much more relaxed right now. You'll find us on some campgrounds those next few months, that's for sure. And we won't limit these stops to visits. We'll make it full-sized stops. On our way up north!
Slowly but surely we understand all those fulltime-families with their monthly campground lease, carpet on the ground and slideouts out for a couple of weeks. We still laugh about our neighbor, though, who takes three full hours to build his side for the weekend. Including playpen for the dogs, grill on the grill and decoration. No pool.