Our Family Van Layout / Home
I feel like after 6+ years of living tiny and nomadically as a family, plus 6 months of living in a speed-built van, we went into the build with a pretty good idea of what we want and need with the layout, and what doesn't work for us. And especially where we didn't want to compromise (hello there, poop room). 
I feel like we cramped all the luxuries in there. It's a tight fit for sure, and I hope the kids come after me height-wise, but we managed to fit it all in there: extra big fridge, poop room with shower, a full range, wood stove and a proper room with desks for the kids. And that's only the stuff I consider luxury, on top of that we have a dinette, enough food storage for two weeks, enough water storage for one week, Berkey, queen-sized bed for the grown ups and enough room for fun toys like our SUPs and snow chains….and well, Cody somewhere in there too. 
Bike Rack
Another non-negotiable were the bikes. For Sam, a perfect day has at least 70% bike rides (and 30% chocolate cake), but the bike carrier will get an entire write up itself. Maybe. Eventually down the road. For now there are pictures.
Ok, the thing is: I talk best in pictures. You won't find a walk-through video of this because hell no. And I don't even know what to really write about this, because: pictures. You can literally see what's going on. Anyways, I'll try.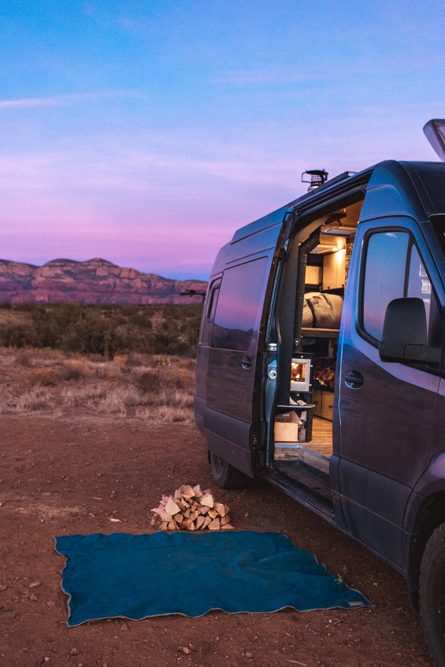 Driving cabin and dining room and office
Let's start with the basics: our home has an engine (v4 gas) and four wheels (2wd). It has a gas pedal and a brake pedal, and SUPs riding where the passenger puts his feet. One of the first things we did were to install swivel seats so we can turn the front seats around into the dinette. Tada, new room. Basically. 
The second thing we did was shorten the three-seat rear passenger bench to a two-seat bicker bench. Everyone who has kids knows why it's called that way.
Add a Lagun table with the base attached to the passenger seat and we got ourselves a convenient and most importable quickly assembled dinette. We didn't want to weigh the pros and cons of setting up the table when we stopped somewhere, that's how easy we wanted it. Mission accomplished. It stores next to Sam's seat between bench and wall and slides right in there.
That pretty table top? That's the window cutout from our plywood walls. Reuse y'all, it's perfect.
The passenger seat base houses two lithium batteries and all that stuff, and the kids seat base houses EVERYTHING. From dog food to snow chains to tents to a freaking angle grinder and spray paint and dog hiking backpack and whatnot. They're a strong combination of black hole and magic handbag of the van that we strongly rely on. 
We built an overhead cabinet above the driver area for clothes and outdoor stuff. That's where we shove the kids snow suits and sleeping bags and I bet there's some other stuff in there that I forgot about.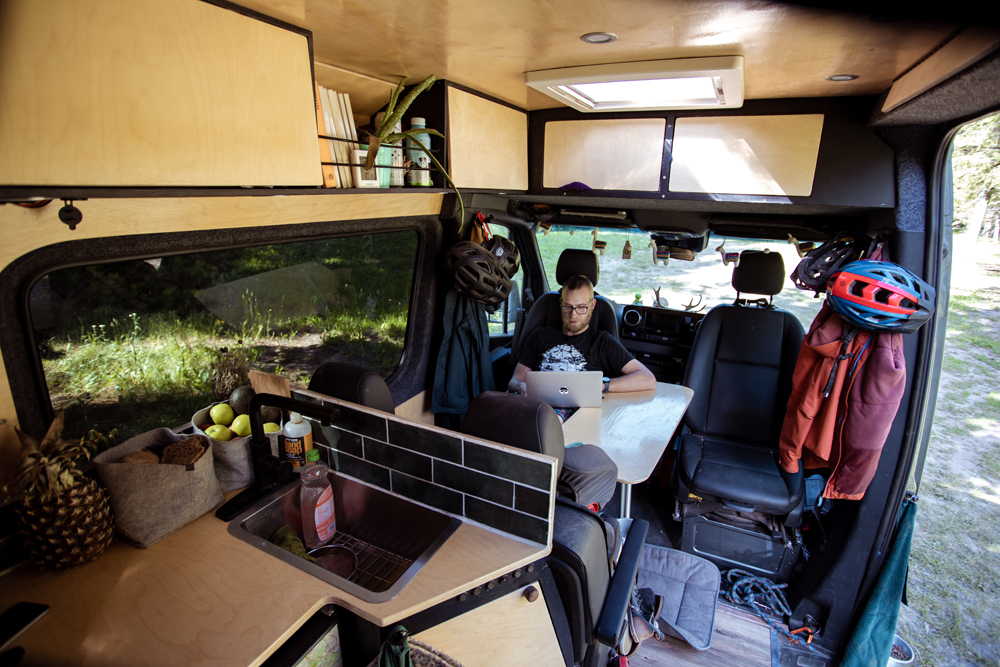 Bike helmets go under the overhead cabinets, secured with bungee cords.
Kitchen
Next up is the kitchen in all it's glory. The entire drivers side of the van doesn't have a single inch to spare. With measurements of the water jugs, fridge, shower pan, wheel well and, well, my "length" in the bed.
The sink is right behind the kids seats, with 4 six-gallon water jugs under it for our main water storage. Right next to that is our basically full fridge and some cabinet storage and our Berkey for water filtration and funny mirror for the kids. The other side houses our Tiny Wood Stove as our only heating option (more here) and our cool drying rack, and our two-burner range (second best decision ever). It's also where all our dry food, dishes and the trash are. 
Poop room and shower and storage room
Opposite side is our glorious poop-room, with composting toilet, shower, laundry storage and yes, it's also where our SUP pump goes. There's not much to stay to it really. It's where we poop and pee (pee diverted, composting for the solids), where I spend too much energy choosing the perfect wallpaper and where we sometimes shower and find a rare moment of closing the door behind us. 
That's it for kitchen/bathroom and dining room. Next up is the bedroom and kids room.
Bedroom and Kids room
The thing is, in every tiny home we've lived in we wanted an area for the kids to have some privacy and have all their projects they have, even if it's raining outside. It's important to us that they can play cars and draw and build LEGO and have sewing projects without waiting for the other one to make some space or us to make space in our table up front. Basically enough space for all their stupid ideas without bothering us too much with it.
They got a bed each (luxury right there), with drawers underneath for clothes, toys, school stuff, microscope, and all those things. Books are stored next to their beds and they tend to redistribute them whenever the other one doesn't notice. There may have been an incident where Sam fell out of his bed because Emmi shoved all books on his side. Life's hard as a little brother.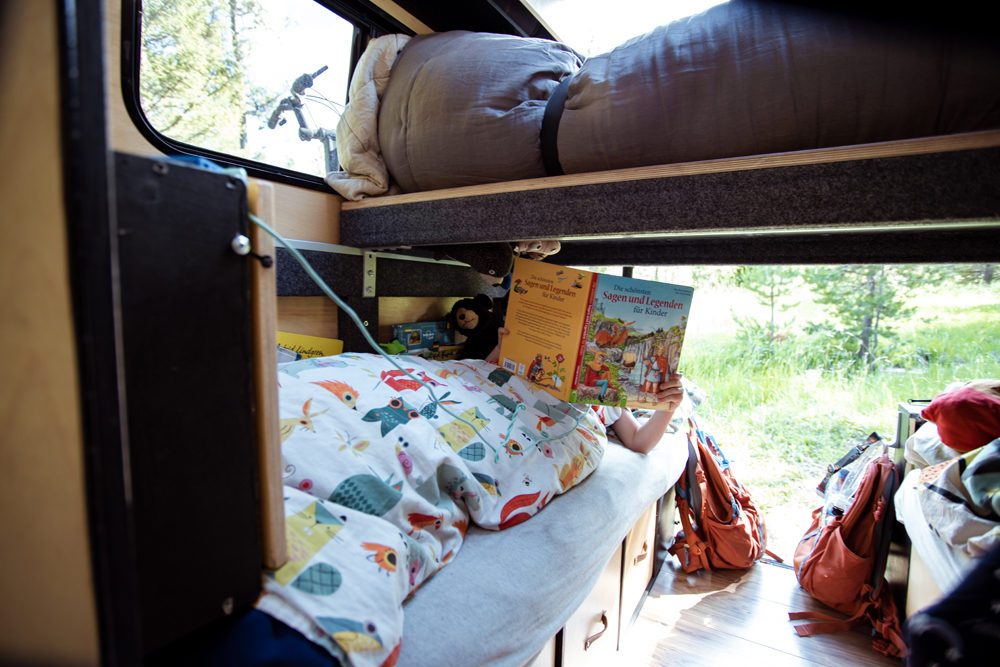 Taking about falling out of beds, Sam was not used to no-rail sleeping and it showed. You know those cool and stupid expensive bed sets that zip around the mattress? They're awesome. But they're also stupid expensive. So we took his sleeping bag, put his mattress in the bag and zipped it up. Worked like a charm and we got some extra storage in that overhead cabinet.
In true sibling fashion, Emmi wanted the same setup, so that's what she got. 
They also have a fold-down desk each, with additional storage for drawing material and other trinkets. Add another tiny overhead cabinet and some storage in their headboard and that's it.
We'll have to remove Emmi's head board storage soon because she's growing too am freaking fast, but that's how we planned it anyways.
Moving up is where the grown-ups sleep. It's one over-engineered construct of Aluminium and wood, because we invested so much in those kids, we don't want to mash them. At least we try not to. Since we don't use the bed during the day (sadly), we built it to slide in to give the kids more space. That way they can move around in there room standing up during the day, and not like some filthy hobbitses that they are. It was important for us though that the van remains usable when the bed is made. This allows for early bedtimes for one of us, or sleeping in for the other while the kids have their breakfast or play in their room. In the trailer we had more space, but the dinette couldn't be used once our bed was made, which may have caused some breakfast tension every once in a while. 
We roll up our mattress during the day, and with it everything we don't want to clean up in the morning. In the evening we just slide it out, unbuckle it and finally find those headphones we've been looking for all day. 
Outdoor and tool storage
The kids don't own all of their under bed storage, each bed has a small box at the head end that opens up to the doors. Those boxes home all our outdoor gear (read toys, shovels, hammocks and such). We also mounted our ace, hatchet, telescope (don't ask, someone had to have it!) and Emmi's Ukulele.
That's about it. The only thing we haven't covered yet are the back doors with the bike and propane rack. This will get its own write down. Hopefully soon.